Laugh: Togetherness (HBO, Crave)
This show came out in 2015 but scratches right where it itches for me right now. I feel like Goldilocks every time I press play these days. This show is too shallow, this show is too sad, this is too depressing, this is too violent. I am seeking funny quirky stories about human beings trying to connect with themselves, each other and with their community.
And so, it was while trying to watch Don't Look Up, that I was reminded how much I adore the actress (who plays Leo's forgiving wife) Melanie Lynskey. She is a New Zealand actor known for movies like Coyote Ugly and one of my favorites, Happy Christmas. I couldn't finish Don't Look Up, but I did google Melanie's bio for fun, and came upon this show. Once I got past the first minute, I was hooked.
Amanda Peet, Melanie Lynskey, Mark Duplass (you know him from The Morning Show) and finally, Steve Zissis (he wrote Cruella) star. The quartet play close but lost characters trying to figure life out in LA. It's laugh out loud funny, and it had me yelling at the TV. I highly recommend this comedy. There are only two seasons, but when it ends, it feels just right.
Wear: Heart Sweatshirt (Old Navy)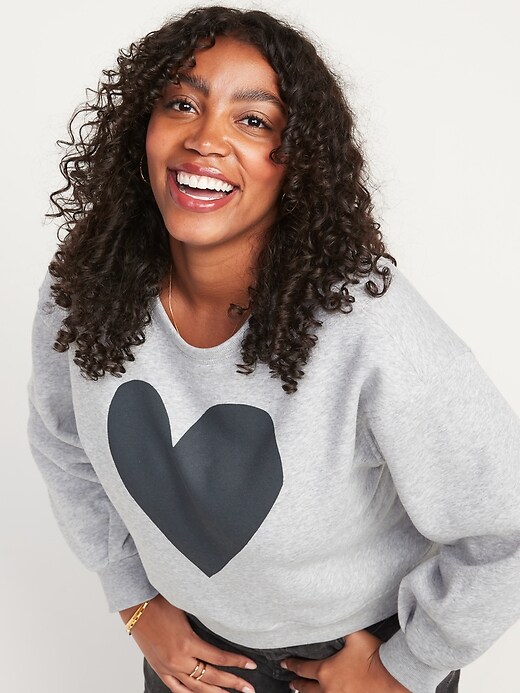 Do I need to say more? Buy it here.
Read: Simple Things Magazine
I am in the process of curating my annual intention board. I always gather a few magazines from different sections including Wellness. This one was wayyyyy at the back and hard to reach. I had to get on my tippy toes to grab it. I am so glad I did. In a rare window of time, I read it from cover to cover. In one sitting.
This fresh quarterly magazine is made in England and it is unique. I was absolutely enthralled with this inspiring, cozy, original magazine. They also compile anthology books, and I will gift myself a copy soon. From mushroom picking with the family, to unique artist interviews, global good news and inspiring journal prompts, this magazine is uplifting, and makes you feel good.
Watch: The Alpinist (Amazon Prime)
This was recommended by Leslie Stephens, former VP Content of Cupcakes and Cashmere. Leslie has pivoted her career back into psychology to study social media addiction. (I had the pleasure of chatting with her on the Flipflops podcast here.) A documentary about a rock climber is not typically on my radar, but I trust her recommendations.
I was on the edge of my seat. Not only is he the world's most accomplished Alpinist at 23-years old, but his ability to feel the mountain and continue to push insane boundaries simply for his own joy is inspiring. Everyone should watch this. Loved this.
Another documentary I loved is Truffle Hunters. This is on Netflix. If you want to slow your pace and just enjoy the love between old men and their dogs, you will love this. The Italian landscapes are dreamy. Beautiful.
Read and Support: Three Uplifting Newsletters
Morning Person: Leslie Stephens (former VP Content Cupcakes & Cashmere) continues to share the best recommendations for what to read, watch, cook and listen to on Morning Person. From hosting adventures, capsule closets, to travel and culture; Leslie has you covered.
Between a Rock and a Card Place: Caroline Donofrio is a contributing writer for Cup of Jo and a celebrity ghostwriter (she co-wrote Queer Eye's Tan France's memoir). She is a writer with unique depth and a fantastic wry sense of humor. I always feel connected and enriched after I read her newsletter. It comes out every Sunday night. (You can hear our incredible chat here.)
Airplane Mode: Liz Plank is a feminist, journalist and author. Her newsletter Airplane Mode is a fantastic much needed political and mental health pick me up. She has just launched a program to help people living with disabilities find their DREAM JOB. I love her. (You can listen to our fantastic chat here.)
Listen: On Being Podcast
During these times, a spiritual and mental health pick me up is vital. A walk and this podcast, followed by a warm mint tea, are just what the doctor ordered. I recommend you start with this one, or this one. The list goes on, so explore.
Watch: Maggie's Plan (iTunes)
Do you have those movies that you rewatch, preferably on a cold Sunday afternoon under a warm blanket? This is one of mine. Greta Gerwig all the time please.
Maggie decides she wants to be a mom now and can't wait for the right guy to come along so she plans to take sperm from a friend and make it happen. In her bathtub. With a turkey baster. Enter yummy Ethan Hawke and hilarious Julianne Moore and her plan is upended. Great side characters played by SNL's alum Maya Rudolph and Bill Hader complete this very satisfying, funny and old Hollywood vibe movie.
(Others include: Tiny Furniture, Manhattan Romance, Purple Violets, The Boy Downstairs)
What's your favorite movie to rewatch?
Enjoy The Virtual Happy Place: OKOwl
If you miss Old Montreal's Café Olympico, you'll be happy to know you can play this video in your office or living room. Akin to the crackling fire video, this one brings Old Montreal into your home. It's meant for you to enjoy the Olimpico atmosphere in the background while sipping coffee, working or studying from home. OKOwl is new and more happy places are to come!
Rent: B.Cycle
My husband rented a bike for six months and uses it every day. It's a great way to podcast and exercise. You can also do on-line classes. The service is great. Very pleasant people deliver your bike and run this company.
Focus on what you have done
Instead of adding more pressure to myself right now and setting lots of goals for 2022, I am giving myself the space to appreciate past intentions that have come into fruition. Last year, I wanted more time for holiness. More time for the private and sacred. What do you want to continue, carry forward and keep chipping away at each day when possible? Time to rest. Time to breathe. Time to walk. Time to create. All good things.
P.S. Acts of kindness
My sister is using her birthday this month to raise funds for women in Afghanistan living under the Taliban rule. If you would like to provide support, please donate here.