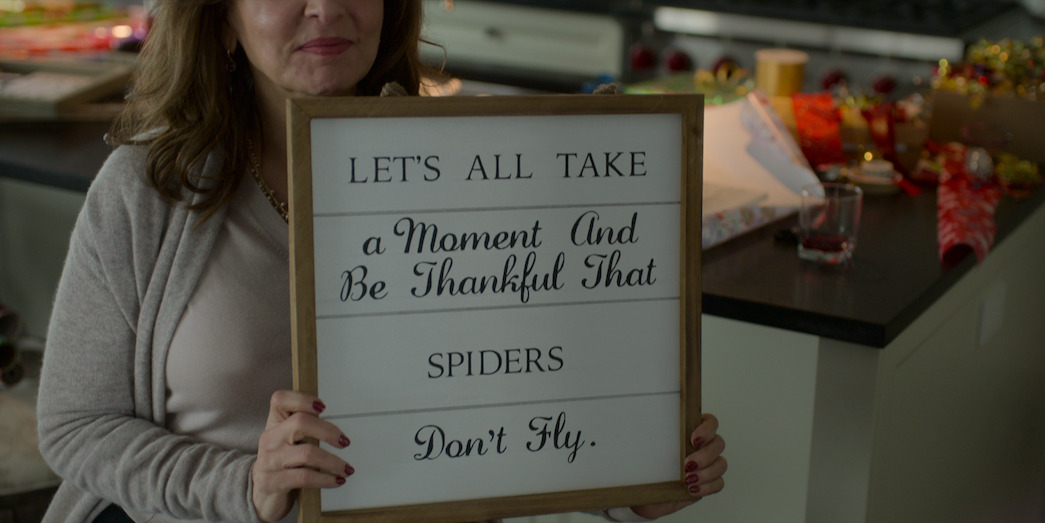 Over the holidays I watched Single All The Way. It features Michael Urie, who I fell for in Younger. It's a love triangle between three men set in New Hampshire. It's so fun. I recommend it even though the holidays are over. There are so many reasons why I loved it, but for the purpose of this post, I want to focus on the mom character – aka – Christmas Carole.
Carole is crafty. I know – eye roll – right? At one point, one of her children complains about the corny handmade signs she receives every year from her mom. I totally get that character's POV. Sometimes, you just want that store-bought item that you can't otherwise afford. But, I actually love the signs Carole makes and the paintings around her house. I assume she paints them herself in her craft room (big enough for the dance number in the movie). One painting in particular was of huge fluffy white peonies set against a turquoise backdrop. Carole's cheerful art and funny handmade signs set the tone for her home, and the movie. They also help tell the story.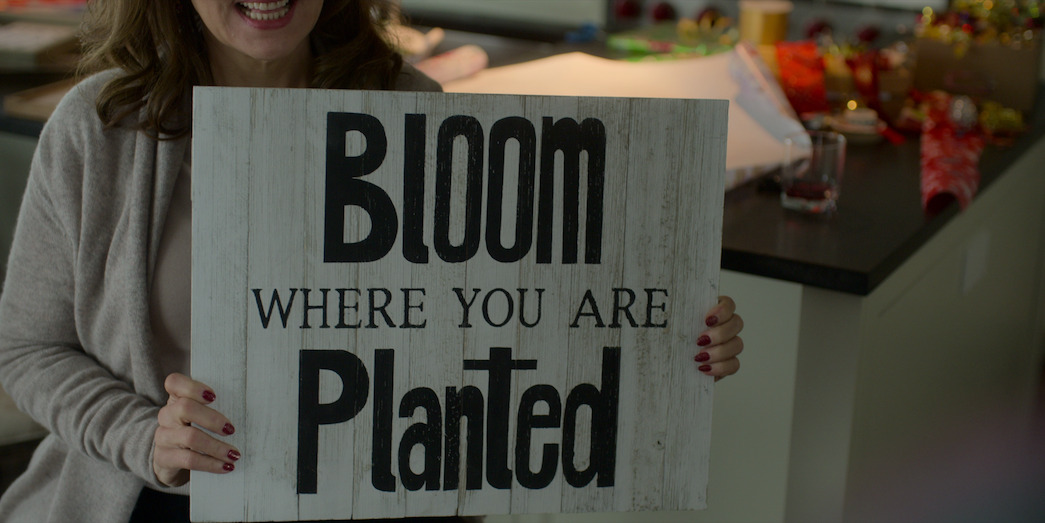 I was so enamored with this painting that I was still thinking about it weeks later. So, I googled "How to paint peonies".
Now, let me preface this by saying that I love to paint wild and free creations that express my feelings. But, I once tried to paint a still life in high school (of riding boots and other forgettable random items the art teacher had put together), and my attempt at this still life was laughable. I went about my business my whole life thinking "I can't paint". I did love the mess of colors on my palette that day. So I decided, I love to paint, I love color, but I am not an artist. (How cruel to think my first attempt at something new was supposed to unleash genius. Can anyone else relate?)
Fast forward to years later when a need in me to paint reemerged. Since then, I've been painting on and off for what – 15 years? I've always gone the "abstract, use my intuition" route. I tried a drawing class. Utter disaster. (A bit like trying to golf, I met my worst, most critical self that day.)
Collage with mixed materials? O girl – That's my jam.
Inspiration boards? Sign me up.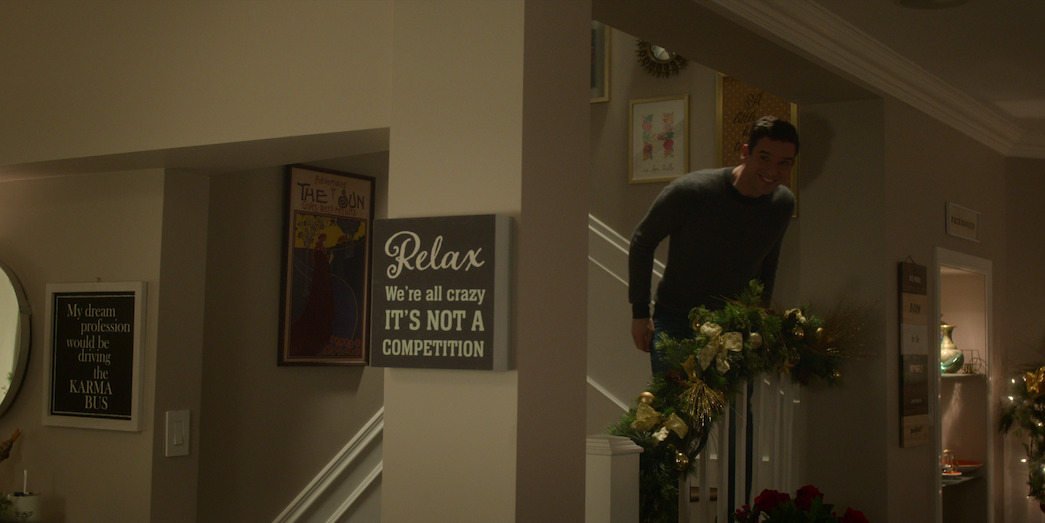 So, here I am faced with the need to paint these gorgeous peonies (my FAVORITE flowers) and I was obstructed by this belief about myself that I am not an artist. However, I went for it anyway because the need was stronger than my belief about my skills. I'd reached a point where I had to at least, try.
I watched this video and boom, an hour and a half later, I was holding my most beautiful painting to date. (In my opinion, at that moment. What others think, or what I see later on, doesn't matter for the sake of this post.) I cannot believe what came out. Um, I can paint peonies? What the…if I can do that, what else can I paint?
Now, this is an excellent tutorial, but, let's be honest. A tutorial has it's limits. I loved Shonda Rhimes' Masterclass, but I don't think I could just sit down and write the next Grey's Anatomy. It would take practice, dedication, desire, and time. I believe something else was at work that day to make this painting happen, and that brings me to my point.
While I painted, I tried something new. I listened to this podcast with headphones on instead of just music coming from a speaker. I hoped the podcast would take the focus off what I was doing and distract the nasty judgy voices that typically impose themselves juuussst as you are getting in the flow. It was like magic. The painting flew out of me as I listened. ( I repeat, it's an excellent tutorial.)
The experience was so exciting. It felt like a turning point. I felt like I had graduated to another level. How did I get here?
It made me think about this book that I picked up a few years ago and how it slowly changed my life. (I remember one of the exercises in the book is to go for a walk and collect things. I picked up sticks and later glued them together to make simple shapes. I then, as a joke, gifted a friend the ugliest most ridiculous Christmas ornament and we laughed – no joke – for an hour in the car. It was RIDICULOUS. I think she was laughing, in part, because she thought I had lost my marbles, the few that I have. But you know that saying, "Sometimes you have to go crazy to get sane", I believe it.)
I now journal every week day. I try new things (like podcasting). I seek and hope to find the things I truly need because I am in touch with my authentic voice. Call it whatever you want. God, Jesus, Buddha, inner child, the universe, energy – what you call it doesn't matter. What matters is that you acknowledge it, because it is the portal to magic.
So, if you are asking yourself, what do I want, really.
Try the book. Try the podcast (and book). Start there.
For me, the holy within, is a sacred space just for myself. I nurture my creativity. It is the famed "room of her own", within myself. Or – a time of my own, as Glennon Doyle calls it. It is sacred. It is hungry. It is a burning fire that must be fed.
I feed it with other voices that also hold that space within themselves, and help others protect their sacred birthright of self-expression, creativity, and desire to share the gifts we have within that make this world so beautiful. It is the fire that keeps me warm, buoyant and led by joy and abundance.
How do you nurture the sacred holy space within you?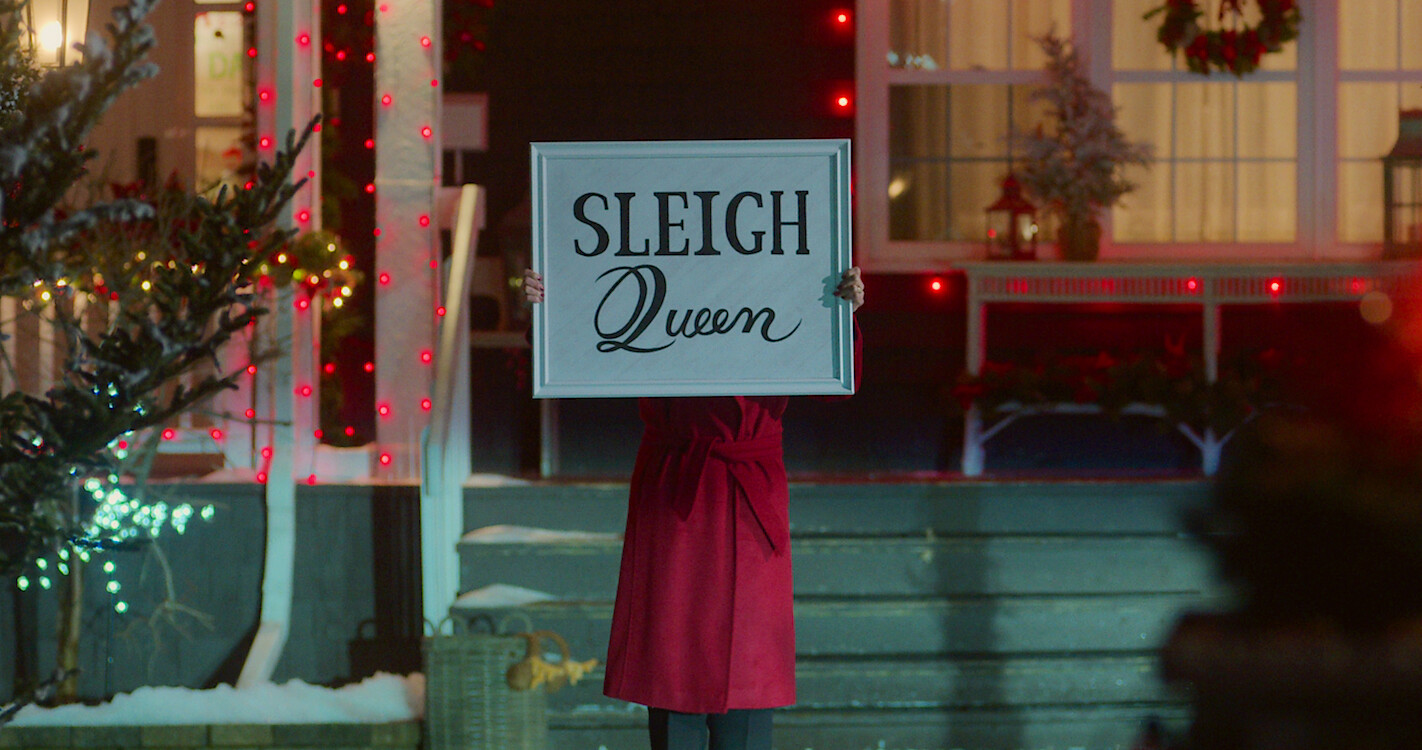 All I know is that if I didn't keep painting and trying new techniques, I never would have had the opportunity for that moment of magic that led to this painting. I am grateful for it. And I will keep fueling the fire, one creative attempt at a time. How I categorize myself doesn't really matter, artist or not, because it isn't about me anyway. It's about this other alchemy I can't see. I just know I've felt it. And I hope to encounter it again.
Creating art is our own unique way of sharing our story, and our experiences in this life. It is how we expel our demons, get the hurt out, and celebrate the joy we experience. It is what makes us human. It is how we connect with what we cannot see, and how we connect with others. It is how we connect with ourselves. We write so we know what we think. We create to create our world. It is our way of drawing on cave walls because we can't, not. To keep all of that magic to yourself is to deny yourself, and the world, the fire that burns within you, and lights up the dark.